To submerge yourself into the perfect blend of idyllic charm and a hasty city life you need to visit the bustling city of Phuentsholing in Bhutan. From Phuentsholing you may travel to the other parts of Bhutan.Travelling in a comfortable yet pocket friendly taxi, cab would always be the top pick when it comes to exploring the country of happiness from this border town in South Bhutan. Renting a taxi or a cab is easy and it is always a safe option when you travel in a hilly terrain. You may hire a taxi from anywhere in Bhutan and Phuentsholing is no exception.
Since most taxi & cabs are not metered, so you need to have a good knowledge of the taxi fares and a better acumen to handle the taxi drivers' evil intention to dupe you. You must not bite your nails fretting over it either; you may always prove to be a witty traveller by asking the locals in advance regarding the taxi fares. You may also learn about the government taxi fares so that you are not deceived so easily.
 Why to choose taxi over other modes of transport?
You will be able to discriminate between a taxi service and a bus service, another popular mode of transport in Bhutan. Bus transport may be a bit cheap but they won't take to the exact location. Again from bus stop you have a cab to reach to your desired location. So if you are a traveller with not too much time in your hand, you should opt for a taxi service. It will be seamless and you won't have to hassle yourself from one mode of transport to another for reaching a single destination.
Tips for tourists in riding taxi or cabs from Phuentsholing, Bhutan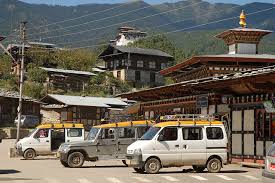 Here are half a dozen tips to help you have a smooth ride in a taxi or cab:
Learn about the taxi fares in advance
To avoid paying  extra money it's always worth going through the official website of road safety and transport authority to get to know about the taxi fares to any destination in Bhutan from Phuentsholing.
Shared taxi
 Are you travelling solo? Share a cab with other commuters and pay for your journey only. You get to save a lot of money which you can use for other purposes during your travel.
Jot down the vehicle number
If you have the habit of leaving things in the taxi or cab after you de-board you must quickly take note of the cab registration number. In case you are stuck in a troublesome situation, it will be of use, too.
Knowing Hindi might save you
You won't have to learn Bhutanese to travel to any city of Bhutan. Bhutanese drivers do converse in Hindi. So, brush up your Hindi speaking skills before making a plan to visit Phuentsholing.
Travel during the day
Bhutan's roads are not favourable enough to hire a cab service at night. Plan most of your sightseeing during the day. It will offer some brilliant photography, too!
Awareness is the key to safety
Wherever you travel, however you travel you must always be aware of what is happening in your surroundings. Same rule applies when it comes to commuting in a taxi or a cab from Phuentsholing. Any abnormal gesture of the cab driver should be taken into consideration and you must also take immediate action.  
Not convinced yet? Here goes the bonus tip:
Travel in a group of four people. Yes. Four seater cabs are more easily available in Phuentsholing than a larger cab. If you are famished with hunger midway or a site simply takes your breath away, you can tell the driver to stop.
---